Answered By: Melissa Whitesell

Last Updated:

Apr 26, 2017

Views:

15
The Roberts Library uses the Library of Congress classification system to arrange books on our shelves.
The first two lines describe the subject of the book. The third line often represents the author's last name. The last line represents the date of publication.
Tips for Finding Books on the Shelf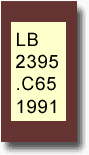 Read call numbers line by line.
LB
Read the first line in alphabetical order:
A, B, BF, C, D... L, LA, LB, LC, M, ML...
2395
Read the second line as a whole number:
1, 2, 3, 45, 100, 101, 1000, 2000, 2430...
.C65
The third line is a combination of a letter and numbers. Read the letter alphabetically. Read the number as a decimal, eg:
.C65 = .65 .C724 = .724
Contact Us
Call the Reference desk - 706-272-4575
Call the Circulation desk - 706-272-4583
Text Us - 706-225-8927